Vetrite, a collection of large-format glass tiles and slabs by SICIS. A product made with fabric and polymeric film that is used as cladding for a variety of surfaces. Introducing Gem, part of the Vetrite collection, offers slabs that celebrate the look of precious stones, lava rocks, and lunar landscapes. Available in thirteen new patterns, with veins and ripples, offering transparent, semi-transparent and opaque variations, the slabs come in various finishes and colors. The series can be backlit for unique applications in feature areas.
Available in standard slab sizes: 47-1/4″ x 110-1/4″ or 53-1/8″ x 114-1/4″ in thicknesses 1/4″ or 3/8″
Gem Collection, is a combination of special techniques and processes which creates glass sheets that capture the timeless and limitless beauty of precious stones, lava rock, as well as dream landscapes. Thirteen unique looks, with swirling veins or slight ripples, transparent and opaque. All options are available in different finishes and backgrounds.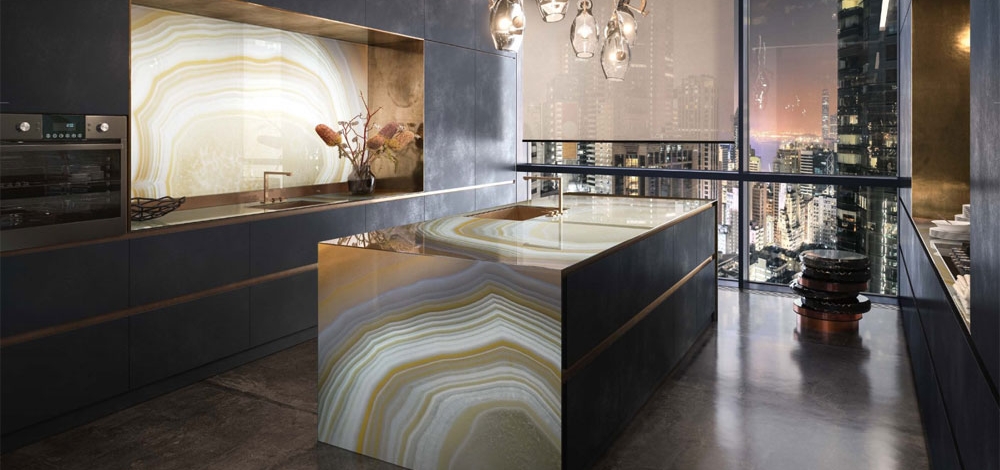 Solid version in which the patterning and colors colors saturated on a pure white base.
Chromo, mirror and chrome plated effect relfecting the brilliant colors.
Opalescent, has translucent effect and will reflect the colors based on the texture. These can be backlit.
Gem Glass has a strong aesthetic character and thanks to the special processing, suitable for multiple uses, applications and interpretations.